News, Events & More
February 2018 Parents' Meeting
Posted: 1/28/2018
January 2018 Parents' Meeting
Posted: 1/7/2018
Hi Parents and Friends,
Please plan to join us for our first 2018 meeting, on Saturday, 1/27/18. This is our annual Chili Cookoff. We invite our parents to bring on their best chili for our meeting. We will be having our prior NAPCNT President's as our celebrity Judges. It's always a terrific meal for all!
As for our MIDS, they have started the "dark ages", and SOW Ship Selection is this month. This is the topic for our meeting. We are honored to have Ron Lis, USN Captain (Ret). Give us a US Navy Ship 101 presentation. Here's a chance for all of use to learn more about our US Navy, and the Ships our Firsties, and Midshipman will be "cruising on" during the summer.
When: Saturday, January 27, 6:00 pm to 8:00 pm
Where: Riverside Church of Christ, School Gymnasium, 150 E. Belt Line Road, Coppell, TX. 75019
RSVP: here
Bring (in addition to food): Snacks for care packages to send to our Mids!
Ron Lis Bio:
During three assignments as Commanding Officer, transformed mediocre organizations into top performing, cohesive and professional military activities
Provided leadership to commands of 300+ personnel including operational proficiency, professional development, disciplinary action and personal/family welfare
Planned and executed a $1.4 billion annual budget providing operational, logistic and payroll support to over 1,000 military personnel assigned at 300 national locations
Provided congressional testimony to reclama mandated budget reductions ensuring funding reinstatement and program out-year stability
We look forward to seeing you!
Regards,
Rick Martinez
October 2017 Parents' Meeting
Posted: 10/2/2017
Parents, you are invited to our Oktoberfest meeting on Saturday, October 21 to hear USNA alumni Jane and Buddy Knight. They hold the distinction of being the first alumni couple to wed in the USNA Chapel after they graduated!
When: Saturday, October 21, 2017, 6:00 pm to 8:00 pm
Where: Riverside Church of Christ, School Gymnasium, 150 E. Belt Line Road, Coppell, TX. 75019
RSVP: Here
Jane and Buddy Knight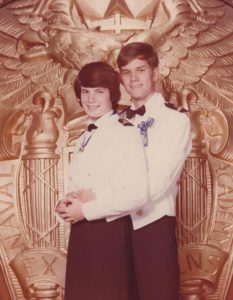 Our speakers will be Jane and Buddy Knight, USNA Class of 1981.  Jane and Buddy were both in the 2nd class of Midshipmen with women and met their Second Class (Junior) year while sharing the Systems Engineering major.  Jane, who was in 1st and later 3rd company, was on the Women's Crew team and earned three letters in her four years.  Buddy was on the staff of WRNV, the Brigade's 10-Watt FM Radio station in the basement of 8th Wing where he was a member of 36th Company!
Buddy and Jane hold the honor of being the first classmates to marry in the Academy Chapel.  After their wedding and honeymoon/graduation leave, Buddy and Jane spent 4 months at NAS Millington, TN where Jane was on recruiting duty while Buddy attended a school to become the Academy's first grad to become an Aviation Maintenance Duty Officer.  In October 1981 they (geographically) split up with Jane going to Flight School in Pensacola while Buddy went to NAS CECIL FIELD in Jacksonville, FL to join Attack Squadron 83, the RAMPAGERS.   Buddy made two deployments to the Mediterranean and Indian Ocean.  Jane transferred to NAS JACKSONVILLE in 1982, assigned to Naval Air Reserve Unit-Jacksonville, managing reservists.  After successful tours in Jacksonville they both were transferred to Hawaii.  Jane was assigned to the Naval Communications Area Master Station, Eastern Pacific while Buddy was assigned to Fleet Air Reconnaissance Squadron THREE (AKA VQ-3) stationed at NAS BARBERS POINT.  Buddy left active duty in 1987 to work for Texas Instruments in Sherman, TX while Jane transferred to Washington, DC to work for Commander, Naval Telecommunications Command.  She left active duty in 1988.
Settling in North Texas, the Knights' joined the Naval Reserve, initally drilling at the old NAS DALLAS base in Grand Prairie. There Buddy and Jane changed specialties to Naval Intelligence. Jane served in reserve units supporting U.S Southern Command & Fleet Intelligence Center-Pacific.  Buddy served in similar units for both commands plus the augmentation unit for the Battle Staff of Carrier Group ONE.  Buddy was also recalled to active duty for OPERATIONS DESERT SHIELD/STORM, where he served at the Fleet Intelligence Center – Pacific, in Hawaii.  Buddy was medically retired in 1995 at the rank of Lieutenant Commander.  Jane retired after 30 years total service in 2013, also as a Lieutenant Commander.
Currently, Jane and Buddy live in Fort Worth where Jane is a math teacher at North Side High School in Fort Worth ISD and Tarrant County College.  Buddy is the Founder & Director of Knights' Quest Ministries.  They have four grown children: Two daughters and two sons.  Both girls are nurses in Pensacola.  Their oldest son works for Amazon.  Their youngest son served in the Infantry of the U.S. Marines , making deployments for Afghanistan and the Middle East.  He is now in college, enjoying his GI BILL!  They have one grandchild, Zephaniah, who also lives in Pensacola, FL.
Beat Tulsa Tailgate and Football Game
Posted: 9/21/2017
Beat Tulsa Tailgate
When: Saturday, September 30th, Time: 3:30PM CDT Kick Off. Tailgate opens 3 hours before kick-off.
Where: University of Tulsa Campus—Reynolds Center (map attached)
Prices: $40 for ages 13 and above; $20 for ages 5 – 13; free for children under age five; add $5 per ticket price for walk-up purchase on game day.
Menu:  Barbecue buffet with pasta salad and chips. Ticket price includes beer from Bitter Sisters Brewery for persons age 21 and above. Water, iced tea and lemonade will also be provided.
Hosts: Naval Academy Parent Club of Oklahoma
Registration:  Two Options:
Via the NA Parents Club – OK (see attached flyer for purchase options)
Through the USNA Alumni Association web site:
Sign on to the USNA.com
Select "Attend an Event" [right side of page]
Select "Away Tailgates" link [bottom of page]
Select @Tulsa
Select "Tailgate Registration" [lower half of page]
Deadline: Online Registration will close at 4:00 p.m. Friday, 22 September. Walk-in registration will be available but prices will be higher at the door (see above under Prices).
Navy vs. Tulsa Game Tickets
When: Saturday, September 30th, Time: 2:30PM CDT Kick Off.
Where: Skelly Field at H. A. Chapman Stadium. See map.
Prices: $30 for Sections 107 & 108 (visitors sections); prices vary depending on other locations at the stadium (see attached Ticket Price Map)
Purchase through Navy Sports:
Access NavySports.com
Use the following steps:
Select "Tickets/Football"
Select "Click Here to Buy"
Select "Football"
Select "@Tulsa, Find Tickets"
Note: You will have to create an account. You may only have the option of Sections 107 or 108.
Purchase through University of Tulsa:
Access TulsaHurricane.com
Use the following steps:
Select "Tickets"
Select "Buy Online"
Select "Football"
Select "Football – Single Games"
Select "Navy, Find Tickets"
Select " Purchase by Seat or Purchase By Price"
Note: You may have to create an account. Scrolling over Sections 107 & 108 showed medium availability.
September Parents' Meeting
Posted: 8/22/2017
Commissioning 101 & USNA Grad: Marcus Walters!
Parents, you are invited to our September, Fall Meeting on Saturday, September 16. Our Mids have now started class, and the AC year is already in full swing. It's truly amazing to see a new year well underway! The Parents Club is honored have LT Marcus Walters, USNA Class of 2007. LT Walters is a First Officer at Southwest Airlines, and currently stationed at the Naval Air Station Joint Reserve Base, Fort Worth.
Lt Walters Command: VR-59 (Naval Air Station Joint Reserve Base Fort Worth)
VR-59, "The Lone Star Express", maintains and operates three C-40A Clippers, based on the Boeing 7